inView® Surveillance Systems
When You Absolutely Need to Know…
Where did they come from?
How many are there?
Were they with others?
Where are they now?
iMove delivers the inView® Surveillance Systems, the first cost-effective wide-area surveillance solution for critical infrastructure and force protection over large areas.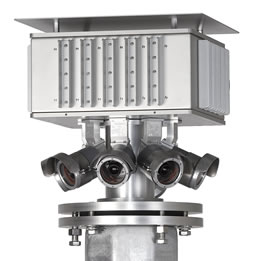 inView Systems' wide-area coverage capabilities far exceed today's CCTV technology, and deliver superior imagery while reducing cost and infrastructure complexity. iMove's immersive imaging systems excel at providing continuous surveillance of large outdoor areas and long perimeters found at government and military installations, energy facilities, seaports, dams and reservoirs. This highly scalable, cost efficient and operationally effective solution is now available for wide-area surveillance applications.
The core of the inView solution is an all-digital, IP network platform, which is a more effective visual surveillance solution than traditional analog and digital CCTV solutions that require multiple cameras. inView systems are further augmented with a full range of advanced automation capabilities that include: motion detection, alarm response, dynamic high-resolution threat assessment as well as instant replay of real-time video
inView Rapid Deployable Surveillance

inView's "better than being there" wide-area surveillance capability is available in a transportable system for use in deployed situations. The inView Rapid Deployable Surveillance (RDS) system achieves a new level of performance for quick reaction in situations requiring real-time security with wide-area surveillance and intrusion detection.
RDS system with full inView capabilities:
Lightweight pole mounted immersive sensors
Intrusion sensors deployed around site with wireless alarm communication
Laptop based consoles & equipment installed in existing facility
Field hardened portable cases for transport and operation
Rugged, shock mount equipment cases with integral cooling and power distribution
Field operational in a matter of hours