GeoView ®
Complete spherical video record of a space, geo-referencing and integrates with leading GIS applications. Read More…
inView ®
Cost-effective wide-area surveillance solution for critical infrastructure and force protection over large areas. Read More…

GeoView
iMove has the solutions for your needs

The GeoView Tactical Immersive Video System combines a ruggedized and sealed platform with a powerful suite of software tools that enables processing, archiving, managing, and disseminating immersive video and metadata sources for live and recorded video exploitation. The system consists of a Tactical Processing Unit, two Tactical Pods, a Tactical Capture Drive, and a Tactical Remote Control, all of which are ruggedized and sealed. Each Tactical Pod includes 4 NTSC video cameras housed in a sealed metal case with a single cable connecting to the Tactical Processing Unit. The two Tactical Pods together provide 360 degree panoramic coverage at 7.5 to 10 frames per second. Up to two optional ruggedized, sealed, high-resolution IP cameras can supplement the Tactical Pods. Upon applying power to the system, the Tactical Processing Unit automatically combines the video streams into viewable video files recorded on the Tactical Capture Drive. The Tactical Capture Drive mount allows for hot-swapping of drives with minimal interruption of recording.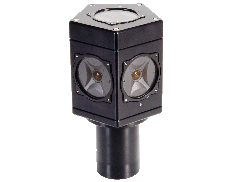 The GeoView–3000-LB3 is the GeoView spherical capture system configuration, which provides spherical coverage for single pass capture of an area or indoor space. It consists of six cameras in a weatherproof housing, together viewing all around and above the housing. Each camera captures 7.5 frames per second. iMove's GeoViewer software package combines the captured video streams into a seamless, perspectively correct spherical display.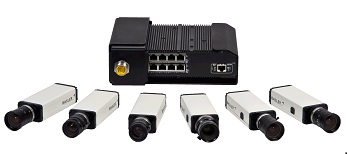 DVS: The Distributed Video System configuration trades the 3000-LB3's spherical coverage for targeted high resolution capabilities. Multiple video cameras can be configured by the user to tailor the coverage and resolution to the requirements of each specific capture. Each individual camera can be fitted with a different focal length lens, providing varying fields of view (from 10 degrees up to 150 degrees) and resolution. In addition, the cameras can be pointed in any direction relative to each other, including overlapping fields of view, to provide tailored panoramic coverage. This flexibility offers unparalleled capabilities for maximizing the value of mobile video collection from vehicles, as well as fixed monitoring applications. The system is designed for quick configuration and installation inside vehicles, providing very low-profile collection or monitoring platforms.
DVS configurations are available with a variety of camera options, including high resolution IP cameras, low-cost NTSC cameras and Near IR imagers. In each case, the multiple video streams are seamed into a perspectively correct panoramic image for efficient exploitation and maximum situational awareness.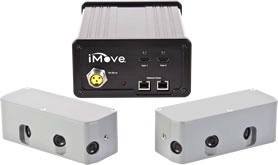 NTSC Pod: The NTSC Pod is a packaged version of the DVS – NTSC system providing a low cost, 180 degree panoramic system that requires no configuration and minimal setup. Each pod includes 4 NTSC video cameras housed in a metal case with a single cable output. NTSC camera pods connect to the iMove Video Server, which processes the multiple video streams into a single compressed IP Ethernet interface for connection to a laptop capture computer. The system minimizes cabling and power requirements for quick, simple installation and reliable operation in vehicle environments.
The NTSC Pod configuration targets vehicle applications, for example police and fire vehicles, which benefit greatly from a 180 degree forward looking field of view, or full 360 degree coverage around the vehicle using two NTSC Pods. Compared to single camera solutions, the NTSC Pod provides very high resolution, panoramic coverage for forensic analysis and incident review.